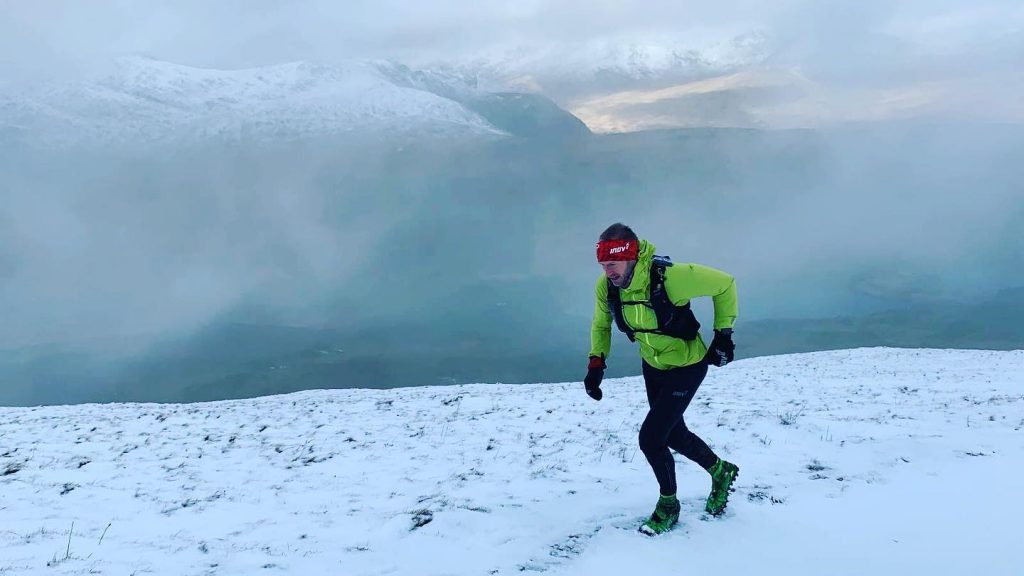 BATH ultra trail-running star Damian Hall has been at it again adding another record to his impressive collection.
Just a month into the new year and despite harsh conditions the 44-year-old (pictured above during his record run) has broken the Paddy Buckley Round winter record – to complement the summer record he set last summer.
Just to recap this long-distance challenge comprises 61 miles and tackles 47 Welsh mountain peaks, which add up to 28,000ft/8,500m of ascent, which is just a fraction less than the height of Mt Everest. Plus it was completely self-supported with no teams helping him out along the way.
That would be beyond most mortals on a nice, sunning day but last weekend Hall had to contend with snow, fog, ice-covered rocks, a wind chill of -8C.
But despite that he completed the circuit in a time of 21hrs 30mins to beat the previous record, held by fellow ultra runner Jim Mann, by just seven minutes.
£I had winter conditions for the first two legs; a -8˚C wind chill was forecasted and it felt that way (and made off with my map and schedule), plus trod-hiding, ankle-deep snow and icy rocks," said Hall, who is an inov-8 ambassador.
"Leg 3's Moel Siabod, too, was hostile at the top. Much of the rest of the round was as squelchy as its reputation, with some groin-level exploration of frozen bogs helping verify levels of chafing.
"Then it got dark and trods kept vanishing. The climb up Snowdon went on forever. The weather got more angry and the wind stole a precious mitten.
"I bonked. I needed extra layers. I ate snow to stay alert. The winter record seemed unlikely. I thought more about just getting home safely."
But approaching the finish in Llanberis Hall realised the record was still on so picked up the race and did enough to bear the previous time. In the summer he completed the Round in 17hrs 31mins.
Now how about the spring and autumn records, Damian?!