THERE will be new men's and women's champions for the South West Cross Country Championships at Bicton College, east Devon, on Sunday.
Neither Dartmoor Runners' Jamie Parkinson or Jessie Sanzo of Bristol & West AC have entered the event, which has been brought forward to Sunday from its usual slot in the new year.
On paper the men's race looks wide open while in the women's Sanzo's clubmate Jenny Spink (pictured below right) would appear to be the slight favourite.
But it will be her first cross country race of the season and only her second outing since clocking a personal bst f 2hrs 35mins 57secs in the Toronto Marathon inn October.
She has subsequently finished ninth in the Leeds Abbey Dash 10k (34:14) but she has shown no form on the country so that should give some of her rivals hope.
Among those one can count Cornwall's former Bristol half marathon champion Emma Stepto (pictured above), who is returning to form after injury, Plymouth's improving junior Poppy Tank and Bristol & West's versatile Charlotte Green, who smashed her 3000m PB indoors.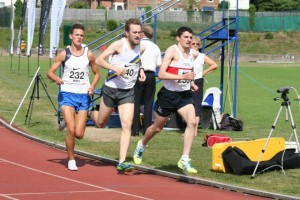 Interesting to note that former Westbury Harriers stalwart Debbie Marsden, who is now running for South West Vets AC after re-locating from Bristol to Dartmoor, is also entered.
As for the men in-form Taunton AC runner Phil Burden, who won the Tri-Counties title last weekend, will be full of confidence but he may find the Bristol & West pair of Owain Jones and Will Christofi (pictured left) will be hard hold.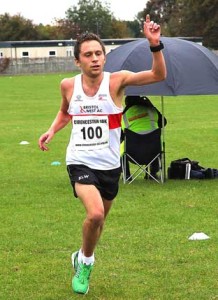 Also entered are Bideford's Shaun Antell (pictured right when a member of Bristol & West AC), Cardiff-based Cornishman Dan Nash and a rejuvenated Phil Norman from North Devon AC. It looks like shaping up to be a cracking race.
Race times
11.30 U11 Boys & Girls 1.5k; 11.50 U13 Girls 3k; 12:10 U13 Boys 3k; 12:30 U15 Girls 4k; 12:50 U15 Boys 4k; 13:10 Senior Men & U20 Men 9.1k;
13:40 Senior Women & U20 Women 6.1k; 14:10 U17 Men 5.1k; 14:30 U17 Women 5.1k.