TEAM Bath's GB international runner Rebecca Hilland can look forward to 2020 with much optimism after an impressive performance in the Malaga marathon in Spain.
Hilland's time of 2hrs 40mins 21secs is the second fastest of her career and only36 seconds outside the personal best of 2:39.45 she set three years ago.
But speaking afterwards Hilland (pictured above), who lives and works in Norway, admitted the performance was far from ideal.
"Unfortunately as much as I tried to avoid being infected by my husband who got sick the week before the race I picked it up a couple of days before but gave it a shot even though I have been paying for it after with coughing and spluttering over everyone!" said Hilland.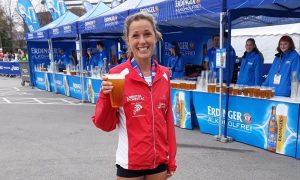 "Nevertheless it went well given the circumstances and finished fourth in 2.40.21 so pleased that I managed to get round and looking forward to resuming training toward London marathon in the New Year."
The time puts Hilland third on the South West Rankings for 2019 behind Bristol & West's Jenny Spink (pictured right), who ran a personal best of 2:31.14 in Frankfurt and Clevedon AC's Charlotte Taylor-Green, who clocked 2:36.54 on her first serious attempt at the distance in the Dublin race.