AS Bristol & West AC coach Mike Down predicted the final race of the year in the Weston Prom 5 miles series was an explosive affair.
Notts AC's former Midland Counties cross country champion Johnny Thewlis (pictured left), who lives in Bristol and regularly trains with Down's group, lived up to his pre-race favourite's tag as he scorched to victory in a swift time of 24mins 39secs.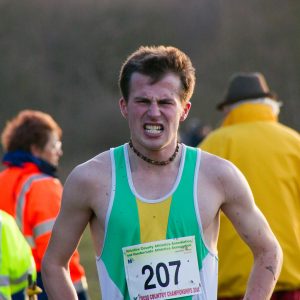 He has run quicker over the distance but considering the blustery conditions blasting the runners on the seafront that is one hell of an effort.
The opposition clearly helped as of the top eight six were from the Bristol & West club including Harry Allen and Kurt Taylor in second and third respectively, Andy Watt, Callum Jones, David Eagon and Josh Moody.
Even Clevedon AC's Alex Crossland in fifth trains with the group so it a real training group outing.
"With the rain fortunately relenting at just the right time, our runners defied the blustery conditions to take the race by their own storm and produce the fastest race for years in the Weston Prom series," said Down.
Thewlis was racing for the first time since his personal best of 2hrs 15mins 52secs in the Berlin marathon but took on the race early on with only Allen, with the confidence of his recent altitude training stint behind him, hanging on in pursuit.
Thewlis' strength eventually prevailed as he clocked a time of 24mins 39secs, one of the fastest in recent years while Allen (pictured right) dug in to clock a personal best of 24:50.
"Any assessment of the times recorded for the race must take into account both the windy conditions on the day and the five stop 'n' start turns demanded by the switchback course, so everyone can clearly go faster," added Down.
Andy Cooke was top veteran over 40 from Matt Ellis of Westbury Harriers and North Somerset junior Sam gentry did well to make the top twenty of such a quality local field.
Taunton AC's Hannah Taunton (pictured below) dominated the women's race finishing 2mins 41secs clear of Clevedon's Francesca Rawlins with Chloe Williams of Great Western Runners third.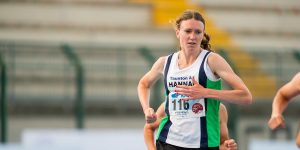 Men: 1 Jonathan THEWLIS (Notts Athletic Club) 24:39; 2 Harry ALLEN (Bristol & West AC) 24:50; 3 Kurt TAYLOR 25:12.
Women: 1 Hannah TAUNTON (Taunton AC) 29: 05; 2 Francesca RAWLINGS (Clevedon AC) 31: 46; 3 Chloe WILLIAMS (Great Western Runners) 31:53.