CHARLOTTE Green is the new England Athletics and Inter Counties 3000m steeplechase champion.
The 31-year-old Bristol & West AC runner ran away from the field at Bedford to land the title for the first time having come second two years ago.
Vi
ctory is yet another success for Charlotte over the barriers having run a lifetime best of 10:15.26 to finish fourth in the British Championships and Olympic trials at the end of June.
That puts Green eight in the current UK Rankings and surely a sub 10 minutes tie must be within her grasp next year.
Victory on Saturday ends a great week for Charlotte as she also ran a PB of 4:19.42 for 1500m in Cardiff during the week.
"What a great week!" said Charlotte.
"Started with last Saturday running 2.06 for 800m, Wednesday running 4.19 for the 1500m and to finish off the week with winning the English Championships for the 3k steeplechase."
Charlotte was the only winner from the west country at the two-day meeting. But th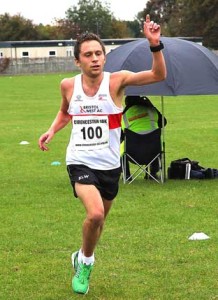 ere were silver medals for Bristol & West AC's higher qualification athlete Tom Gale in the high jump and fellow junior Mollie Courtney of Cheltenham in the 100m hurdles.
Christina Jones also won a deserved bronze in the women's hammer and former B&W clubmate Shan Antell (pictured left), who has enjoyed a terrific summer, was third in the 5000m.
It was also good to see former B&W athlete and ex-Easy Runner athlete of the month Cameron Walker-Shepherd finish fourth in the pole vault with a season's best of 5.05m
England Athletics Championships, Bedford – senior men 100 (+2.0w): 1 Joel Fearon (Birch) 9.96; 2 Andy Robertson (Sale) 10.15; 400hts:Mark Cottam (B&W) 49.59; Mile: 16 Adam Wilson (Y) 4:34.30; 5000: 3 Shaun Antell (Bide) 14:52.74; 5 Berihu Tesfay (Exm) 15:04.70;  PV: 4 Cameron Walker-Shepherd  (UK Armed Forces) 5.05; HJ: 1 Mike Edwards (Birch) 2.20;  Tom Gale TB) 2.10; 3 Jonathan Broom-Edwards (NEB) 2.10; 5 Adam Wall (B&W) 2.05; HT: 5 Tim Williams (Glos) 60.56; 6 Alex Warner (NEB) 60.27; 11 Jacob Lange (Glos) 52.82.
Senior women – 100 s/f  2: 5 Sophie Yorke (C ) 12.02; (hts Yvette Westwood Y) 12.43); 100H (+.6w): 1 Angelita Broadbelt-Blake (TVH) 13.29; 2 Mollie Courtney (C ) 13.31; 3 Karla Drew (Sheff) 13.51;  1500: 16 Floren Scrafton (WH) 4:35.96; 3000S/C: 1 Charlotte Green (B&W) 10:23.70; 22 Phillipa Bowden (AFD) 10:44.116; 3 Ellie Stevens (Birch) 10:54.40; HT: 3 Christina Jones (B&W) 58.70;  PV: 9 Molly Caudery (CAC) 3.50; HJ: 5 Courtney 1.74.