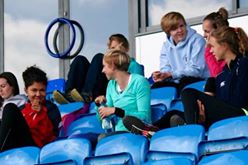 BRISTOL & West's women staged a grand finale to their UK Women's League campaign to end the season on a high at Wigan.
The club saved their best performance for the third and final match as they finished second to Notts AC.
That lifted the squad to fourth overall which represents a remarkable recovery after finishing second from bottom in the opening match.
But they bounced back quickly from that setback to finish third in the second match and with this latest effort finished equal third with Wigan AC on 15 match points with both Notts and Shaftesbury Barnet securing promotion.
Sale Harriers Manchester and Southampton Ac were relegated with Harrow AC and Crawley AC gaining promotion from Division Two.
Woodford Green and Blackheath & Bromley were relegated from the Premier Division.
The only other west club in the UK Women's League, Exeter Harriers, will retain their status in Division Three despite finishing second from bottom just ahead of Newport Harriers but as the division only has six clubs with no automatic relegation that may yet save them.
Division One overall standings: 1 Notts AC 21.0 league points (607.5 match points); 2 Shaftesbury Barnet 20 (656); 3 Wigan 15 (557); 4 Bristol & West Ac 15 (536.5); 5 Cardiff AC 13 (544); 6 Trafford AC 12 (529.5); 7 Sale Harriers Manchester 9 (479); 8 Southampton AC 3 (350.5).