ROSIE Hamilton-James has strengthened her grip on the under 17 women's title with her second win in the latest Gwent Cross Country League.
Racing on home territory at Blaise Castle in an event organised by her club Westbury Harriers Hamilton-James (pictured above among the early leaders of the under 17s race) followed up her at Pembrey Country Park last month and a second place in the opening fixture to put her first overall.
Hamilton-James now sits top of the under 17 rankings with two points with clubmate Kate Howard second on five points and Bristol & West AC's Claudia Spice third on eight.
In the team competition Westbury, who also boasts Rhiannon Paton in ninth overall, are currently second on 140 points behind Cardiff AAC on 122 so the title is all to play for in the final two fixtures at Chepstow and Swansea in February and March respectively.
Westbury also hold top spot in the under 13 girls' age group thanks to some excellent running by Laura Chance. At Blaise Chance's unbeaten record was ended by her main rival Any Garrod of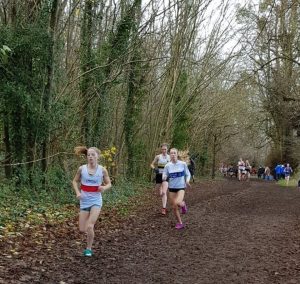 Newport Harriers as the pair fought out a terrific contest with just three seconds separating them at the finish.
Chance is still top on two points with Garrod, enjoying her first win, on second with three points and Millie Redman of North Somerset third on seven.
With solid backing from Elen Ruck, who is sixth overall, Felicity Lowe, Corrine Jones and Jasmine Spear the Westbury under 13 girls' squad are top in the team standings on 120 points, 49 clear of Cardiff AAC so their prospects look good going into the final two matches.
Pacsetter: Megan Hornung leads Amelia Honor
In the under 15 girls' age group Amelia Honor is the club's leading performer in third overall as she finished runner-up behind Bristol & West's Megan Hornung, who made it two wins out of two to go top overall .
In the team event Westbury lie fourth in 275 points with Cardiff Archers leading the way on 123 points, 58 clear of Bristol & West.