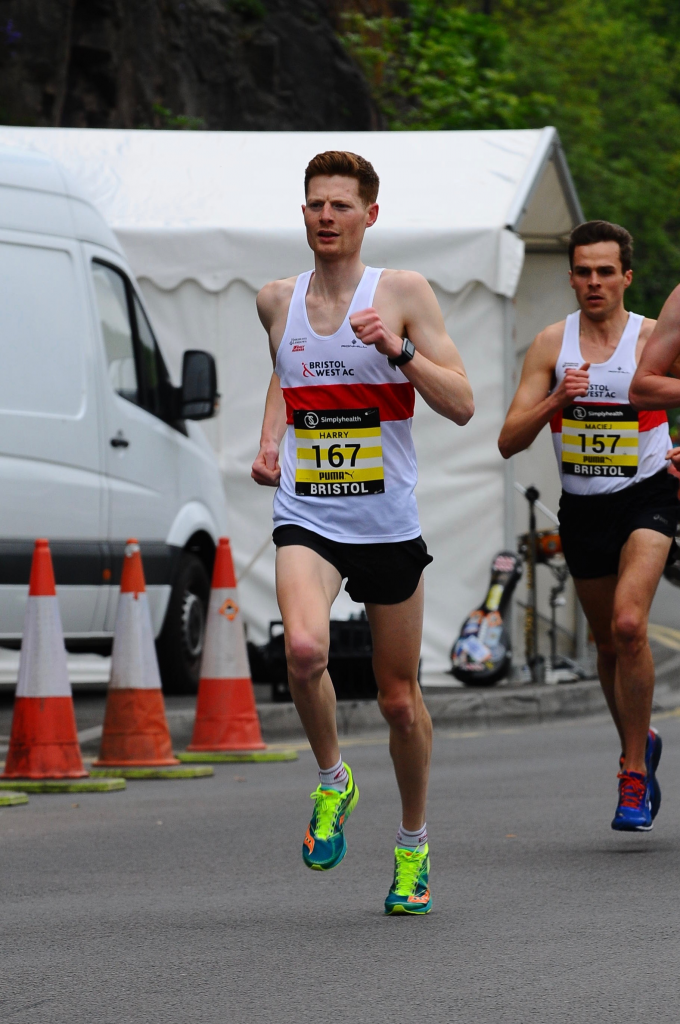 BRISTOL & West AC runner Harry Allen smashed his personal best in a super-fast Telford 10k yesterday.
The race has established itself as one of the premier 10k road races in the country so once again attracted a top class domestic field who took advantage of the decent conditions to pile up personal bests.
Allen (pictured above in the road relays) also took advantage as he clocked a time of 30mins 18secs to slice 16 seconds off the mark he set in the Brighton 10k during the spring.
Remarkably that time, which would win most race sin the West Country, was good enough to only finish 33rd as the top 16 men dipped under under 30 minutes, 25 went under 30:10, 37 under 30:30, 52 under 31 minutes and a staggering 97 under 32 minutes.
If it is a PB you want then this would be a race to pencil in for your 2020 diary.
B&W clubmate Joe Connors slashed 18 seconds off the 32:24 PB he set in the same race twelve months ago while Jed Bartlett equalled his PB of 32:40 which he set in the Trafford 10k in March.
B&W veteran Andrew Cooke will remember this race fondly after slashing 37 seconds off his previous best of 33:42 which he ran in the Simplyhealth Great Bristol 10k in May.
Before then Cooke's PB stood at 34:20 – dating back to the Bristol 10k six years ago!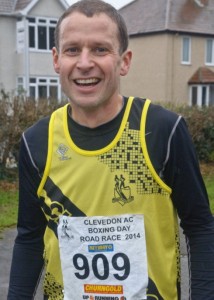 One of the biggest PBs to fall on the day was B&W's Ben Malpihant as he improved from 34:24 to 33:07 in only his second attempt at the distance with his debut set at Cardiff just over two months ago.
Clevedon AC veteran Luke Murray (pictured right) also enjoyed his trip up the M5 as he broke 34 minutes for the first time with a sparkling PB of 33mins 37secs. Murray's previous best stood at 34:02 set two years ago in the Magor Marsh event.
Team Bath junior Otto Copping joined in the PB fun as he improved from 35:56 in the Calne Clock Challenge race in March to 33:54.
The honour of finishing top west runner went to Calne Running Club's Simon Nott, as he broke 30 minutes for the first time with an excellent 29:47.
The previous week Nott had to settle for second best behind B&W's new signing Felix McGrath at the Tri-Counties Cross Country Championships.
McGrath was also at Telford but this time the tables were well and truly reversed as McGrath had to settle for 31:07 in 56th place, outside the PB of 30:51 set in March.
Former B&W runner Tom Merson was 15th in 29:53, just three seconds off his 2015 PB while Bideford's Ronnie Richmond claimed a PB of 30:03 after clocking 30:13 in Gloucester a few weeks ago.
Top marks again to Westbury Harriers' Nigel Gates (pictured left) for finishing first veteran over 60 in a time of 36mins 38secs while clubmate Katie Hughes was fifth veteran over 45.
B&W's Clare Jolliffe was runner-up in the over 50s age group and clubmate Anne Dockery was second in the W70 category.
Telford 10k – men: 1 Adam Craig (Inverclyde) 28:32.
11 Simon Nott (CRC) 29:47 (PB); 14 Tom Mortimer (Stroud, U23) 29:52 (debut); 15 Tom Merson (Exm) 29:53; 17 Ronnie Richmond (Bide) 30:03 (PB); 33 Harry Allen (B&W) 30:18 (PB); 38 Ben Cole (Swin) 30:32; 56 Felix McGrath (B&W) 31:07; 69 Mark Jenkin (Bide, M40 1st) 31:29; 102 Joe Connors (B&W) 32:06 (PB); 127 Jed Bartlett (B&W) 32:40 (=PB); 145 Andrew Cooke (B&W, M40) 33:05 (PB); 149 Ben Maliphant (B&W) 33:07 (PB); 153 Chris McMillan (Weston) 33:11; 167 Luke Murray (Clevedon, M40) 33:37 (PB); 176 Otto Copping (TB, U20) 33:54 (PB).
M65: 1 Nigel Gates (Westbury) 36:38;
Women – W45: 5 Katie Hughes (Westbury) 38:39. W50: 2 Clare Jolliffe (B&W) 39:42; 5 Sarah Everitt (B&W) 40:53. W65: 5 Zina Marchant (TB) 51:08. W70: 2 Anne Dockery (B&W) 53:53.