WESTBURY Harriers also had plenty to celebrate after staging a great event at Blaise Castle.
As well as providing the overall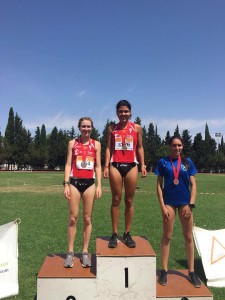 winner in Floren Scrafton (pictured left on top of the podium from an event in Spain earlier this year) the Harriers also snapped up the team event beating local rivals Bristol & West AC by 25 points.
Floren led the way and received excellent support from junior Ellie Wallace in seventh, Ellie Leather 17th, Emma Journeaux 18th , Sophie Voller 35th (pictured below) and finally Lucy Richens in 44th.
"Well done ladies 1st team on the day," said Westbury team manager Tamsin Chick Elson.
"Overall we did well – U23s 3rd overall, senior ladies 2nd overall, V35s third overall, V45s fourth overall, V55s 1st overall, V65s 1st overall, B team 2nd in reserve division.
"So make sure you have the next fixture date in your diary, Sunday 12th Feb."
The B&W scoring six were led home by Claire Jolliffe in 12th with Sarah Everitt 19th, Ellen Harrison 22nd, Julia Belyavin 24th , Florence Emond 25th and finally Daisy Mummery in 30th.
What cost them a clear victory was that newcomer Natalie Griffiths, who finished 13th, was running as an individual so didn't score for the team – this time.
But overall after three matches B&W have the advantage with a total of 3751 points, 136 clear of Westbury in second with Cardiff AC third on 3505.