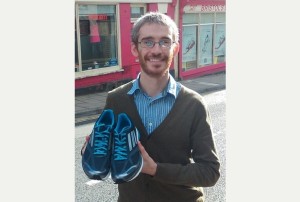 BRISTOL & West AC's senior men edged a narrow victory over Cardiff AC in what is becoming a thrilling team competition in the Gwent Cross Country League.
B&W's team, led by Jarlath McKenna (pictured right) in an excellent second and Owain Jones fourth, beat Cardiff on the day at Blaise Castle by just six points scoring 1,870 to the Wales club's 1,864.
That means that just beyond the halfway point of the league campaign B&W extend their lead over Cardiff to 13 points with the Micky Morris Racing Team another 34 points adrift.
With further fixtures to follow in February and March the contest is set to reach a thrilling climax.
Back to Saturday's race and the B&W team was completed by David Bruce (11th), Ben Robinson (pictured left, 13th), Ben Mitchell (25th) and William Davidson (27th).
Overall victory went to Cardiff-based Cornishman Dan Nash with North Somerset's Josh Davis 10th and Scott Campbell leading home the Westbury Harrier' squad in 31st.