LUKE Evans ran a personal best of 15mins 13secs to win the second race in the Aztec West Fast 5k Series on Tuesday beating his Bristol & West clubmate Jarlath McKenna , who also clocked a PB of 15:15.
Evans' (pictured left) time was four seconds quicker than in the opening race last month when he finished runner-up t Stroud junior Tom Mortimer with McKenna third on that occasion in 15:18.
Top female in a field of 178 finishers was Westbury Harriers' teenager Hannah Hobbs (17:12) from Bristol's improving Fiona marks (17:47).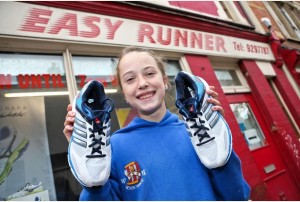 For 16-year-old Hobbs (pictured right receiving her Easy Runner/Bristol Post athlete of the month award) it was a massive PB easily eclipsing the time of 17:54 she ran in the same event in January last year.
Men: 1 Lue Evans (B&W) 15:13; 2 Jarlath McKenna (B&W) 15:15; 3 James Rodgers (NSAC) 15:17.
Women: 1 Hannah Hobbs WH, U17) 17:12; 2 Fiona Marks(B&W) 17:47; 3 Jackie Rockliffe (AVR, W45) 18:01.