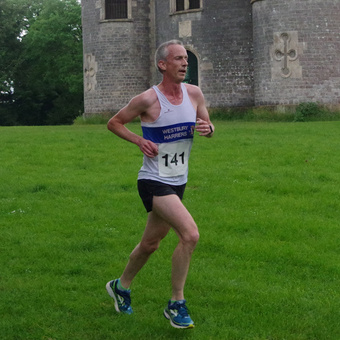 THE recent cancellation of the Forest of Dean half marathon means that the Westbury Harriers' Club Championships was brought to a premature end.
The club's website has now posted the results of the championships – subject to final ratification – and it seems only fitting to salute new champions Ewan Paton (pictured left)  and Kay Ridgwell.
Both enjoyed solid seasons over the past year with over 45 veteran Paton notching up personal bests in the 5k parkrun (18mins 24secs) and half marathon (83:05) while over 60 Ridgwell has also had a busy year.
Behind Paton Trevor Fitsall edged ahead of Ian Gawinowski by just one point while Sophie Voller (pictured below) and Tamsin Chick were separated by the same slender margin vying for fourth and fifth in the women's rankings.
Kay Ridgwell 323                   Ewan Paton 323

Eithne Noonan 285               Trevor Fitsall 310
Judy Knights 262                   Ian Gawinowski 309
Sophie Voller 150                   Tim Carr 289
Tamsin Chick 149                  Alastair Blackwood 266
Ann Lovell 93                         Robin Phillips 211
Laura Pankhurst 80              Mike Mewse 191
Linda Phillips 78                   Richard Noble 181
Jennifer Stevenson 59         Oli Beale 170
Katie Hughes 50                    Alex Hamblin 148
Robyn Esther Ellis 39           Clive Attwood 101