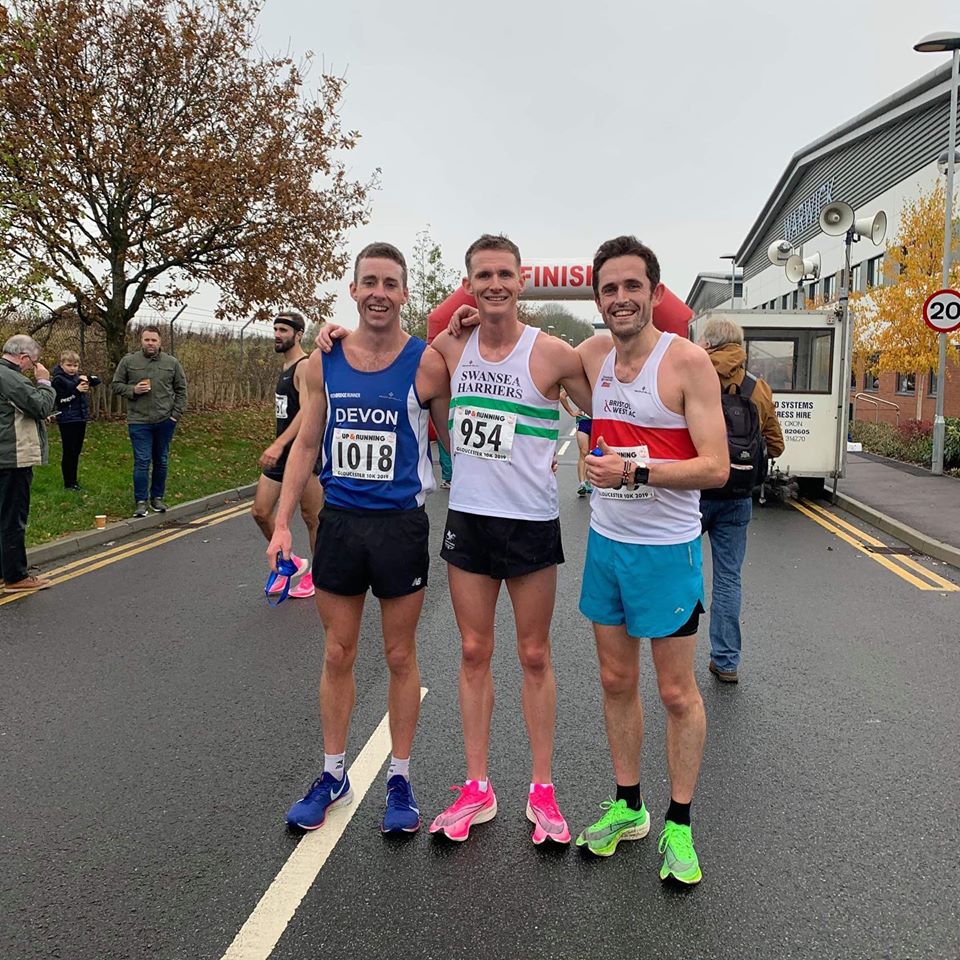 Podium places: (L to R) Tom Merson flanks winner Jonathan Hopkins and Peter Le Grice
IN his first race since the disappointment of the Frankfurt marathon Peter Le Grice showed there are no lasting physical effects with an impressive run in the Gloucester 10k.
The Bristol & West AC international needed a boost after his England debut in Germany last month didn't go to plan – he trailed home in 2hrs 55mins 05secs – with a time of 29mins 53secs for second place and just 21 seconds off his PB.
In a high-quality race Le Grice chased home Wales international Jonathan Hopkins (29:27) while his former clubmate Tom Merson just missed out on breaking 30 minutes as he finished third in 30:07.
The next two west runners also clocked PBs with Bideford's Ronnie Richmond fourth in 30:13 and Wiltshire's Simon Nott fifth in 30:25 and with Avon Valley Runners' Ed Knudsen also claiming a PB of 31:13 in ninth those four performances all make the latest top 20 rankings in the South West.
Maybe one for local runners to target next year especially as the event incorporates the South West Inter-Counties Championships, although Avon did not field any teams.
Laurence Caird of Great Western Runners will have no regrets about making the short trip up the M5 as he slashed over a minute from the PB he set on the same course a year ago with 38:03 in 89th place.
Likewise leading local runner in the women's race was Clevedon AC veteran Fran Rawlings (pictured below wearing number 666 in the main image, courtesy of Clevedon A) as she carved 53 seconds off the mark she set in the Bridgwater 10k clocking 38:34 in 14th place.
Just behind and running only her second 10k Westbury Harrier junior Samantha Munday smashed her best, improving from 44:25 on her debut in the Simplyhealth Bristol event in May to 39:27. Now that is a cracking improvement by any standard.
Gloucester 10k, incorporating South-West Inter Counties Championships – men: 1 Jonathan Hopkins (Swansea) 29:27; 2 Peter Le Grice (B&W) 29:53; 3 Tom Merson (Exm) 30:07; 4 Aaron Richmond (Bide) 30:13 (PB); 5 Simon Nott (Calne RC) 30:25 (PB).
WILTSHIRE: 9 Ed Knudsen (AVR) 31:13 (PB); 38 Simon Gilbert (Devizes RC, M40) 34:05; 51 Paul Gardiner (Chipp) 35:22; 58 Rich Harding (AVR, M40) 35:54; 59 Peter Blake (Chipp, M40) 35:53; 68 Andrew Duncan (Chipp) 36:19;
AVON: 84 Patrick Cobb (TB) 37:52; 89 Laurence Caird (GWR) 38:03 (PB); 96 Jonathan Bennett (B&W) 38:32
Women: 1 Rachel Felton (Stroud) 34:37; 2 Heidi Treganza (CAC) 35:46; 3 Carys Hughes (Cardiff) 36:02; 4 Emma Stepto (CAC, W40) 36:10.
WILTSHIRE: 11 Bethan Francis (AVR) 38:16; 12 Emma Hines (Chipp) 38:27 (PB); 17 Denise Nott (Calne RC, W40) 38:42 (PB); 31 Veryan Cranston (AVR, W40) 41:25; 32 Gemma Knudsen (AVR) 41:25; 38 Debbie Gunning (Swin, W50) 42:45;
AVON: 14 Fran Rawlings (Clevedon, W40) 38:34 (PB); 22 Samantha Kate Munday (WH) 39:27. 840 finishers