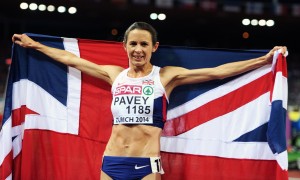 BRISTOL & West AC life member Jo Pavey is today celebrating he selection to compete in a record-breaking fifth Olympic Games.
The 42-year-old super mum pictured left) was named in the 80-strong GB athletics squad for Rio awarded the third discretionary spot behind trials winner Jess Andrews and Beth Potter.
Pavey, who now lives near Exeter,  becomes the first British runner to compete in five Olympic Games having made her debut in Sydney finishing 12th in the 5000m – having just celebrated her 27th birthday.
"It was a race against time and things weren't going well with my health but all I could do was keep plugging away," said Pavey, reflecting on her disappointing run in the trials when illness meant she only finished 10th in 33mins 22.76secs.
"I just had to make myself as selectable as I could."
She did that by finishing fifth in the European Championships last week improving her time to 31:34.61 and move well ahead of her nearest rival Kate Avery, who opted to miss the championships and rely on the sectors t pick he instead.
"I am absolutely thrilled to be selected," added Pavey.
"When you're a young girl you dream of going to the Olympics, you never think you could be going to five."