A NICE little story from Spain where Westbury Harrier Floren Villanueva Scrafton has just been crowned the 1500 champion in t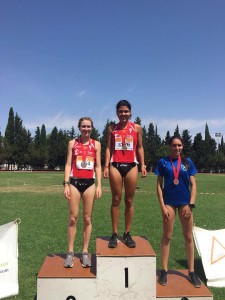 he Madrid Track & Field Championships.
Floren (pictured on the top of the podium with the other medal winners) has been studying in Madrid for the past two years and has hosted a number of local runners, including Charlotte Green and Kate Hulls, on training and racing trips to the Spanish capital.
Floren, who started off in Pat Gallagher's coaching group,  has battled against some bad injuries to stay in the sport and it is great to see her still racing and clearly enjoying herself.