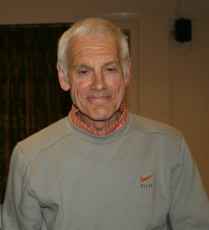 Mike Down
BRISTOL & West AC team manager Mike Down believes the men's team has the ability to mount a serious challenge for a top six finish in the national 12-Stage Rad Relay Championships in Birmingham tomorrow.
The normally cautious Down reckons the team is stronger than the one who won the Midlands title two weeks ago with Pete Le Grice, Jarlath McKenna and Steve Mitchel – the latter pair both previous winners of the Easy Runner athlete of the month competition – coming into the starting line-up.
"It is the best team we can turn out apart from Dan Studley and Rich Peters and you never know what might happen," said Down.
"We are definitely aiming for the top six and we have a better team than last year when we finished eighth but only a minute off fifth. It will be close again."
Cheltenham & County Harries, who Bristol pipped to win the Midlands title, are also entered but have lost former Bristol & West runner Phil Wylie.
Bristol & West AC A squad: Will Christofi, Mike Wilsmore, Jarlath McKenna, Luke Evans, Steve Mitchell, Ben Robinson, Tom Merson, Miles Chandler, Pete Le Grice, Ben Westhenry, Owain Jones, Adam Speake.
WHATEVER HAPPENED TO THE CLASS OF 2006?
SHOULD Bristol & West AC men's team do better than sixth tomorrow then it will be their best result in ten years.
It was back in 2006 that the squad finished fifth and since then they have three times claimed sixth spot with two eighth places and a ninth to underline their consistency as the top west club.
Interestingly and not surprisingly there are few survivors from the 2006 team still racing for the club; in fact there is only one still in action for Bristol & West and that is veteran Phil Parry.
Of the rest most have retired and disappeared from view. For the record the team of 2006 who came fifth were as follows.
5  Bristol & West AC                   4:13:04
Heywood       (7) 26:46
Kingsnorth    (10) 15:25
Hula          (12) 27:39
Peters        (7) 14:50
Leighton      (6) 26:57
D McKarracher    (4) 15:09
Whalley       (3) 26:04
Parry         (4) 15:18
Wills         (6) 27:36
Davenport     (6) 15:25
Nicholson     (5) 27:16
Bugden        (5) 14:39
SIGN UP FOR THE AZTEC WEST FAST 5K SERIES
THE first Aztec West Fast 5k race of the 2016 Summer Series will be held on Tuesday 26th April 2016 with registration from 6.30pm and the race starting at 7.30pm.
The remaining dates for the 2016 summer series are:
Tuesday 31st May 2016
Tuesday 28th June 2016
Tuesday 26th July 2016