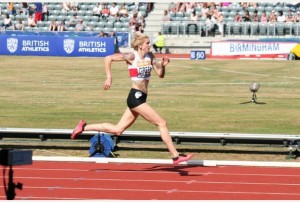 JUST one Bristol & West athlete and a former Yate sprinter have opted to travel to Belgium next weekend for the 51st annual Flanders Cup meeting in Antwerp.
In-form Bristol & West's Charlotte Green, who last weekend soared to No 1 in the UK Rankings for the 2000m steeplechase, will fly the club flag while ex-Yate athlete Callum Court, now with Cardiff, is also in the large South West squad put together by Sonya Ellis.
Mind you this isn't a representative team as the trip is self-financing so hence a number of athletes from outside the region are also joining the coach excursion to the continent for the match held from August 21-23.
South West team for Antwerp – Brook Adnitt (Tavistock), Holly Bankes (Stroud), Ollie Berry (Winchester), Joshua Blake (Tavistock), Ryan Bonifas (Basingstoke), Nick Clements (Yeovil), Aimee Leigh Clowes (Tavistock), Callum Court (Cardiff – ex-Yate), Sam Crowter (Exeter), Rhodri Davies (Cardiff), William Dax (Tavistock), Alice George (Stroud), Ben Gibb (Yeovil), Alice George (Stroud AC), Charlotte Green (B&W), Ryan Grimwade (Cardiff), Alice Hannan (Yeovil), Catherine Hardy (Gloucester), Jasper Hawkins (Cardiff), Joshua Hollisey-Mclean (Swansea), Carys Jones (Carmarthen), William Kennedy (TBAC), Jade Kinsey (Tavistock), Grace Knapp (Stroud), Lyndsey Maund (Swansea), Tash Mead (W Suffolk), Abby Miles (Swindon), Caroline Parminter (UA), Brenna Price (Aberdare), Aled Price (Aberdare), Emma Ryder (Tavistock), William Sage (Cheltenham), Natasha Smith (Stroud), Dominic Taylor (Taunton), Ryan Webb (Wimborne), Meghan Whittaker (Exeter) Jamie Williamson (Bournemouth), Liam McDavvit (Reading), Owen Styler (Exeter), Glenn Etherington (Yeovil), Royce Tooth (Taunton).