BRISTOL & West AC now have promotion within their grasp after a superb win in the British Men's Athletics League.
Alex Daley
The club claimed their second successive victory in the latest Division Three match at Bedford to move them into top spot overall with just the fourth and final match to come at Nottingham next month.
It has been a terrific comeback by the club's athletes after opening their campaign with a disappointing seventh place in the opening fixture in May and team boss Roger Brocklesby admits they are in a great place to bounce straight back up into Division Two after last year's relegation setback.
"It was brilliant to win the match at Bedford and it was another great all-round team performance," said Brocklesby.
"Two wins in a row have put us top ahead of Bedford now and to be honest we could probably afford to finish third in the final match and still get one of the two automatic promotion places.
"I am feeling quite confident now!"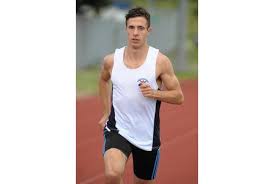 The best event for Bristol & West was the 400m hurdles as they took maximum points with wins for team captain Alex Daley in the A event and Tim Stephens in the B.
Mike Wilsmore (pictured above) won the 1500m and was runner-up in the 3000m with Jack Bancroft second in the B event and there were also good points in the 3000m steeplechase with Harry Lane second in the A and Harry Allen winning the B.
Will Kennedy won the 100m B race with club stalwart Scott Bajere fourth in the A.
In the field Andrea Manfroni won the javelin and Callum Rea was third in the B to go with his second place in the B high jump.
Matt Curtis (high jump), Gavin Phillips and Sam Boulton (discus) and the triple jump pair of Jordan Harry and Jake Parmenter also chipped in with valuable points to secure victory by 45 points from previous league leaders Bedford.
"It is in our own hands now so let's go and finish the job," said Brocklesby.
 British Men's Athletics League, Division Three – teams: 1 Bristol & West AC 333.0 points; 2 Bedford & County 288; 3 Nene Valley 288; 4 Notts AC 275; 5 Trafford AC 264.3; 6 Southend 260; 7 Chelmsford AC 250.3; 8 Enfield & Haringey 210.3.
Overall after 3 matches: 1 Bristol & West 18pts; 2 Bedford 16.5; 3 Nene Valley 16; 4 Chelmsford 15; 5 Notts 15; 6 Trafford 14; 7 Enfield 8.5; 8 Southend 5.