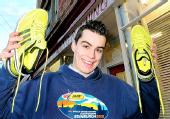 BRISTOL & West's men have been confirmed as having finished second team in the England 10k Championships at Leeds on Sunday.
New champion Dan Studley led the way with the best win of his career and was backed up by Will Christofi (32nd) and Owain Jones (33rd).
"We originally thought it was four to count and then we may have won it but with just three scorers we had to settle for second, lie last year, behind Highgate," said team manager Mike Down.