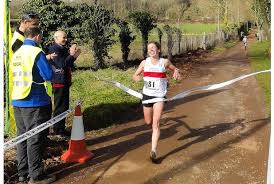 THERE really is no stopping Annabel Granger at the moment.
Yesterday the in-form Bristol & West runner (pictured) added the Sodbury Slog title to her recent run of victories which include the Cheltenham, Exeter and Stroud half marathon races.
So it seems Annabel is just as happy on the mud – and there was plenty on Chipping Sodbury Common as she is on tarmac.
Clare Prosser of Wells, who has also been in good form, was second and Bristol University student Ellen Harrison third.