EMILY Diamond knows she will need the run of her life if she is to make her mark on the Olympics in Rio.
The Bristol & West AC in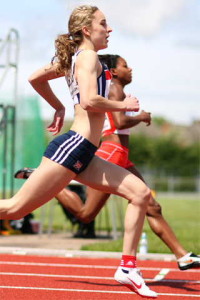 ternational from Clifton (pictured left), a former winner of the Bristol Post/Easy Runner athlete of the month, will line up for the heats of the women's 400m tomorrow (SATURDAY AUGUST 13) .
There are seven heats and only the top 24 will make one of the three semi finals scheduled for Sunday and as Diamond is 29th in the Word Rankings – though 11 of those women ahead of her are Americans so only three of those will be there – it will be a considerable triumph if she makes the cut.
"I know I will have to treat the first round as my final," said Diamond. "I will need to commit and go all out and I am ready to do that."