THERE is an exciting new look to the Bristol & West AC team senior women's team for the autumn Midland Counties Road Relays in Birmingham tomorrow.
Many of the more established names are not available but that hasn't prevented stand-in team manager Chris Elson – who is in charge as Keith Brackstone recovers from an operation – from fielding a significant presence for the event around Sutton Park.
Catie O'Donoghue (pictured centre)
 None of the team who finished third last year, just beating Westbury Harriers by seven seconds, survive though Ellen Harrison is included in the B squad.
Instead the A squad comprises Natalie Griffiths, Hannah Pollack, Catie O'Donogue and Mel Newberry.
 "We've got four teams and here they are in batting order," said Elson.
 A:  Natalie Griffiths    Hannah Pollack    Catie O'Donoghue  Mel Newberry 
B:    Ellen Harrison    Amy Partridge     Isabelle Talbot-Price   Elaina Gard   
C:   Sarah Everitt      Clare Jolliffe        Emma Jolliffe          Ana Duran-Mingo  
D:    Helen Clarke      Latife Comlek      Helen Newberry        Hen Anstey 
 As for the men Mike Down is playing down hopes of retaining the title they won in such exciting fashion twelve months ago when Steve Mitchell over-hauled Cheltenham on the sixth and final stage.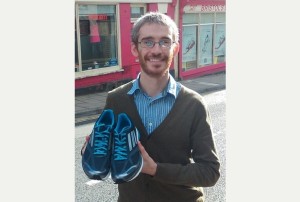 "We have so many unavailable either through holidays, illness or injury while others are racing the Bristol half the following day," said Down.
"We'll just be looking to qualify for the Nationals."
Nonetheless, the squad does include the experienced pair of Owain Jones and Jarlath McKenna (pictured right) and look capable of a top six finish.
Despite the lure of the Bristol half stretching their resources to the limit Westbury Harriers will also field a men's team.
Leading the way is Anthony Glover with Joe Connors (fresh from his recent 10k personal best), Ben Whitaker, who will be making his first appearance at the road relays as a senior, Chris Palmer, Matt Lavis and Scott Campbell.
Joe Connors recently ran a PB over 10k