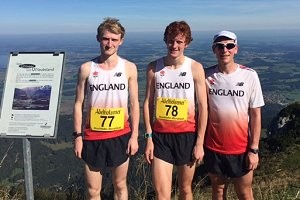 ENGLAND U23 representatives Felix McGrath of Westbury Harriers and Tom McGuinness acquitted themselves well in a stellar international field at the Hochfelln Mountain Race (8.9km, 1074m ascent) in Bavaria, Germany, finishing 16th and 19th respectively of 250 entrants.
The race was won by Eritrean Petro Mamu closely followed by his compatriot Yossief Tekle.
This opportunity provided valuable experience for the England U23s, allowing them to test themselves against a world-class field in an uphill-only race.
The race finished at the top of the Hochfelln mountain with stunning views of the Bavarian and Austrian Alps. There was plenty of time to get to know some of the other athletes and learn from their experience while enjoying the refreshments at the finish.
Felix McGrath said: "I feel I got the pacing right and I came through well trying to catch the American runner in front of me."
Both athletes came away with an awareness of how to increase and amend their training to make further progress.
Team manager Neil Wilkinson commented: "I was impressed with Tom and Felix's performances on a bigger stage. Hopefully giving them the experience of international travel and racing, will whet their appetite for future success."