THERE will be a startling omission on the start line of the women's 4-stage event at the Midland Counties 6-Stage Road Relay Championships tomorrow – there won't be a team from Bristol & West AC.
Over recent six years the club has enjoyed massive success in this event winning it twice in 2011 and 2014 and finishing runner-up on the other three occasions (in 2012 the event was cancelled).
But this year team manager Keith Brackstone (pictured right) was left pulling his hair out as one by one his runners dropped out.
"By Wednesday we had just two runners l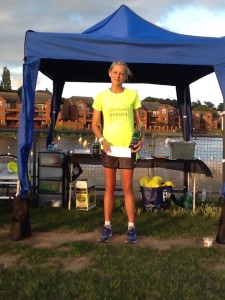 eft standing due to injuries and illness so I spoke to them both and they agreed there was no point in travelling," said Brackstone.
"We can still enter a team for the National and hopefully we can get a strong team out for that."
Key runners like Jessie Sanzo, Jasmine Finney (pictured left) and Helen Sharpe are all currently injured while Jenny Spink is concentrating on the Great Bristol half marathon.
"I have never had so many runners unavailable through injury or illness, it has been diabolical really," added Brackstone.