MIKE Wilsmore got his new year off to a flying start as he smashed his personal best over 1500m indoors last weekend.
With pacemaking help from Bristol & West clubmate Steve Mitchell in Cardiff Wilsmore (pictured below) scorched around the seven-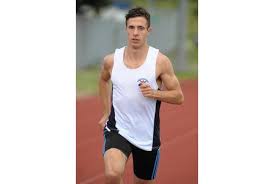 and-a-half banked laps to win the race in 3mins 48.86secs and also lift the South West senior men's title.
That easily eclipsed his previous indoor best of 3:52.08 set last year and is only four seconds off his lifetime best which he ran in 2012 – and that must definitely be in his sights this summer.
The time also qualifies Wilsmore for the UK Indoor Championships and puts him second in the UK Rankings for 2016 – and top in the South West – behind Robbie Fitzgibbon (3:48.03).