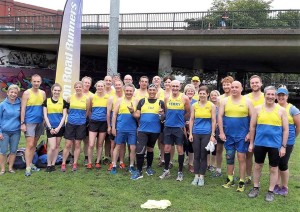 IT was entirely appropriate that Will Ganley won the Beach Buster multi terrain race organised by Bitton Road Runners.
The race was a warm-up to a night of celebrations to mark the 30th anniversary of the club so Ganley's victory – he is a member – was a great way to get the party started.
Ganley clocked 43mins 16secs for the course to finish over a minute clear of veteran Tommy George with Team Bath's Tim Hill third.
Top woman in sixth overall was Team Bath's Fiona Blackmore – formerly of Bitton – as she clocked 46:06 to finish well ahead of Bristol & West's Lisa Newing (50:46).
I would just like to thank everybody so much who made the Bitton Beach buster such a massive success yesterday and I am so happy with how things went," said race spokesman Wayne Ellis.
There were 76 finishers.