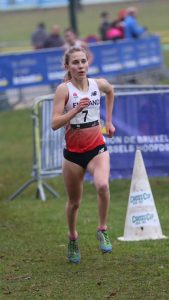 ZOE Wassell admits it is a long shot that she will be called up to make her Great Britain debut at the European Cross Country Championships.
The 19-year-old Bristol & West AC newcomer finished seventh in the under 20 women's race at the latest UK Cross Challenge event in Liverpool, which was incorporated the trials for the Europeans.
"I was absolutely gutted when I crossed the finish line," said Wassell.
"The selectors will pick the top five automatically for the Europeans while the sixth person is picked on form. The girl in front of me has been racing Parkruns mostly so I may have a chance as I was only two seconds behind her but I know it is a long shot and I am not getting up my hopes."
Wassell's disappointment is understandable but it is worth noting that her performance was probably her best yet over the country and further proof that she is returning to her best form after injury problems.
One west runner who will be celebrating a place in the GB team is Cornwall AC's Grace Brock (pictured right), who finished a fine fourth.
Likewise Stroud's Tom Mortimer, who with Wassell is a student at Loughborough University, will also be named in the squad after finishing third in the under 20 men's race following a storming last mile.
Also in the young athletes' races Westbury Harriers' Dalis Jones (pictured left) produced a super performance to finish 10th in the under 15 girls' age group won by Salisbury's Bea Wood.
Top west runner in the senior men's race was Wells City Harriers' Oliver Fox in ninth place. Crucially he was also fourth under 23 man so should be named in the squad for that age group race at the Europeans.
Peter le Grice, who has been in scintillating form on the roads this autumn positing a series of lifetime bests, was rewarded for making the long trip north from his home in Penzance with 38th place.
His B&W clubmate Owain Jones was 76th.
In the senior women's race B&W's Natalie Griffiths was 64th.
UK Cross Challenge inc European Champs trials, Sefton Park, Liverpool – men: 9 Oliver Fox (Wells, U23 4th) 28:29; 37 Dan Nash (Cardiff) 29:37; 38 Peter Le Grice (B&W) 29:39; 76 Owain Jones (B&W) 30:36;
Under 20 men: 3 Tom Mortimer (Stroud).
Senior women: 64 Natalie Griffiths (B&W) 29:44;
Under 20 women: 4 Grace Brock (CAC) 14:56; 7 Zoe Wassell (B&W) 15:15.
Under 15 girls: 1 Bea Wood (Salisbury) 10:25; 10 Dalis Jones (WH) 10:58