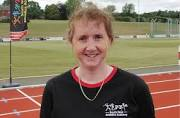 SONYA Ellis (pictured) has revealed why the South West Inter Counties Cross Country Championships has been brought forward to the week before Christmas from its traditional slot at the start of the New Year.
"England Athletics insisted the event was moved as it clashes with the South West Indoor Championships in Cardiff," said Sonya, who organises the event through her South West Athletics Academy.
So now the event, which is open to runners from Avon, Cornwall, Devon, Dorset, Gloucestershire, Somerset and Wiltshire, will now be staged at Bicton College, near Budleigh Salterton in east Devon, on Sunday December 20th.
Quite why England Athletics feel there should be a conflict of interest between cross country runners and indoor athletes remains a mystery but I fear the switch will cost the event entries as it comes just a week after Avon, Somerset and Wiltshire hold their Tri-Counties Championships at Bath University.