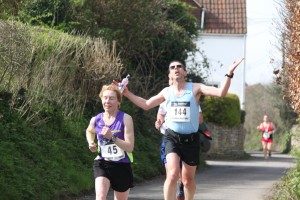 THE 2017 Hogweed Hilly half marathon scheduled for Sunday March 19th has been cancelled.
A spokesman for the organisers, Hogweed Trotter said they were forced to take the decision because of the state of the roads on the course in south Gloucestershire.
A Hogweed Trotter enjoying the race in happier times
'We are very sorry to have to inform you that, following a course inspection, we have found that the road surface along a key section of the Hogweed Hilly Half route has deteriorated and isn't suitable for a road race at the current time," said a statement from the club.
'We have not been able to confirm when repairs will be completed so unfortunately we are cancelling this year's race.
'We will contact you again to arrange a refund of your entry fee.'
The race has acquired an enviable reputation since it was launched in 2005 as one of the toughest in the west country – and in contrast to almost all other half marathons around offering no chance of a personal best!
The organisation and rugged nature of the course that offers terrific views and vistas of the south Gloucestershire countryside ensured it made the top ten races in the Runners' World annual survey in 2009.
Hopefully when – if? – the lanes are repaired the event will be back on the calendar for 2018.