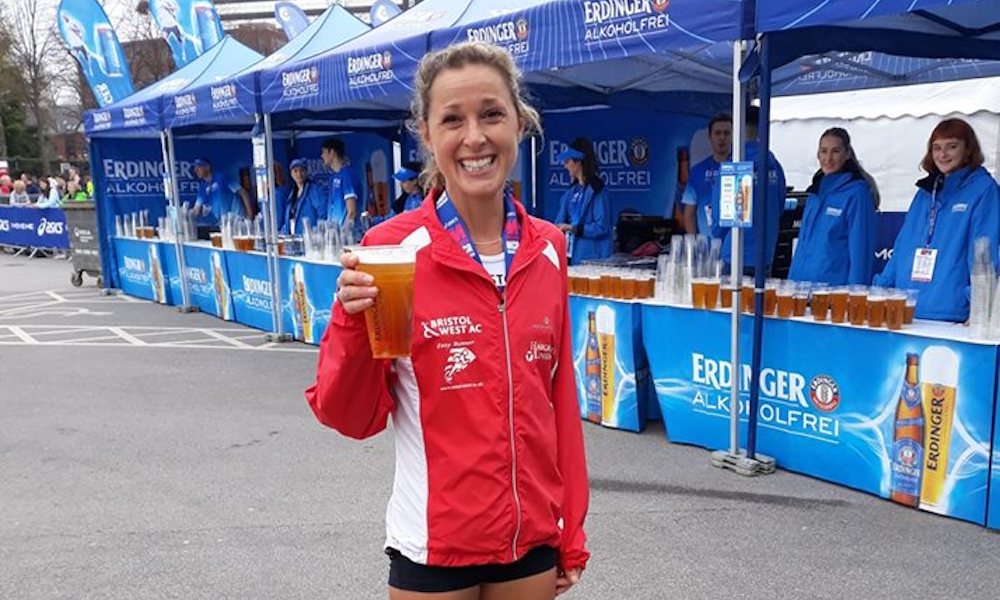 Cheers! Jenny Spink celebrates victory in the ASICS Manchester marathon
JENNY Spink feels she as last returning to her best form after running a personal best to win the ASICS Manchester marathon on Sunday.
The Bristol & West AC runner shaved 38 seconds off her previous best of 2:35.57 recorded three years ago with a course record time of 2hrs 35mins 19secs to go second on the UK Rankings.
Spink barely had time to shower and change before catching a flight back home to Barcelona, where she and her family have lived for over two years but speaking from Spain she said her hopes were high for the rest of the year.
"I was really happy with my first personal best in the marathon for three years," said Spink.
"I knew I was in good shape after finishing third in the Valencia marathon at the start of December last year in a time of 2:36.54.
"In Manchester I only slowed a bit in the last 10k when I was on my own and running into a slight headwind but it was great to win with a PB."
Spink has raced sparingly over the past two years as she batted to recover from a back injury that not only stopped her running but also prevented any cross-training to maintain fitness.
"It has been a hard slog to get back as I have seem to have had constant setbacks and then Bruce Tulloh (her coach) passed away," added Spink.
"I wanted to run well for him in Manchester and I think I have done him proud."
Spink is already looking towards her next marathon, possibly a return to Valencia at the end of the year, drawing upon the fact that good things come in threes.
"Back in 2014/15 I ran three good marathons in succession with Frankfurt (October 2014, 2:39.46), London (April 2015, 2:37.35) and Toronto (running for England in October 2015, 2:35.47) so I am hoping I can do the same again this year," said Spink.
If she can stay clear of injury and continue to train well under the Spanish sun then there is every chance that PB will come down ever further by the end of the year.