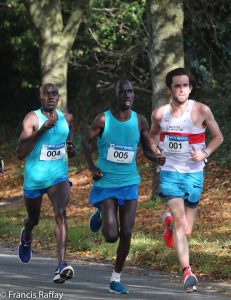 WHAT a remarkable two weeks for Pete Le Grice.
The Penzance-based member of Bristol & West AC has notched up successive personal bests in the marathon, half marathon and now the 10k – all over successive weekends.
In Jersey Le Grice finished runner-up in a PB of 2hrs 21mins 08secs to go top of the South West Rankings – and 15th in the UK Rankings.
Just seven days after that he volunteered his services for Cornwall in the Great West Run half and smashed his PB by over four minutes with a sparkling mark of 66:22.
That is the second quickest time by a west runner this year behind his GB international clubmate Dan Studley, who posted his PB of 64:23 in Barcelona.
Le Grice would have been forgiven for putting his feet up for a well-earned rest after that action-packed seven days but yesterday he was on county duty again for Cornwall at the Gloucester 10k, which included the South West Inter-Counties Championships.
Remarkably Le Grice not only conjured up his first sub 31 minutes clocking – his PB of 31:52 dated back four years to the Bristol 10k – but he actually went under the landmark 30 minutes barrier with a superb 29:43.
That puts Le Grice top of the South West Rankings at the distance and 22nd in the UK.
No other west male runner can match that sort of form at the moment and gives strong support to the claim that Le Grice has really stepped up to a new level. Couldn't have happened to a nicer guy either.