CLUB historian Mike Strange has confirmed that Emily Diamond is the first female track and field athlete from Bristol & West AC – and formerly Bristol AC – to win a medal in the Olympic Games.
Emily (pictured left) helped the G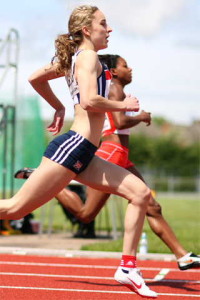 B women's team finish third in the 4x400m relay producing a stunning third leg run to haul the squad up from fifth into third which ex-Olympic champion Christine Ohuruogu consolidated on the final lap.
"The only other Bristol track and medallist I am aware of is Jack Gregory in the 1948 Olympics held in London," said Strange.
"Jack was in the 4x100m sprint relay squad and they finished second but then there was a protest from the Americans and they were relegated to third but no-one seems to be sure. But he definitely won a medal of some colour!"
But since then no Bristol athlete – whether Nick Rose or Jo Pavey – have manage to make the podium.