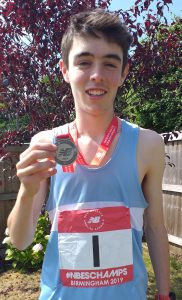 MAX Davis was delighted to pick up the prize for the fastest lap at the Cleeve 5K Festival of Running Road Relays – but not as happy as his dad.
The 18-year-old's reward for clocking a record-breaking time of 14mins 48secs around the 5k loop was certainly different though also had a strong connection with speed.
"The prize for setting the fastest time was the use for a weekend of a sports car complete a with a full tank of petrol," said Davis.
"Unfortunately I don't drive yet – but my dad is pleased!"
There will be plenty of more prizes coming Davis' way in the years to come if he keeps performing like he did on Sunday as he became the first man to complete the distance in under 15 minutes.
"I thought breaking the old record (which stood at 15mins 30secs to Oliver Fox) was do-able but to run that fast was a bit of a surprise to be honest," added Davis.
AVR coach Steve Williams was more effusive in his praise as he watched Davis conjure up a performance that confirms his emergence as one of the most exciting runners in the West Country.
"Max's time stunned everyone there," said Williams.
That's because the previous record, set by British junior international Oliver Fox of Wells City, had already been broken twice before Davis set off.
Another Wells runner, Luke Prior, ran 15mins 25secs on stage one and then Bristol & West's Harry Allen followed up his record-breaking victory in the Westbury 5k last week with a sizzling 15mins 10secs on stage two.
Experienced watchers reckoned Allen's time would be the new record for 2020 but they hadn't reckoned with English Schools' 3000m medallist Davis.
"When I heard Harry had run 15mins 10secs I thought that was quick because it is actually quite a hard course with the final 3k uphill after a downhill start," added Davis.
"I would definitely say that is one of my best runs on the road and it was a great way to end the season."