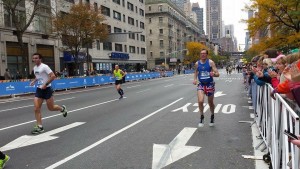 TEAM Bath runner Dave Coales will run the 26th marathon of his career tomorrow when he line sup for the classic Athens event.
"I thought it would be fitting to run the original 26.2 miles course from Marathon to Athens what with this being my 26th time of running 26.2 miles," said Coales (pictured left in last year's New York marathon).
"My training has gone well, however, the Athens Marathon is a hilly course a good five minutes or so slower than a flat course such as London so my target time is 2hs 45mins."
The Athens Marathon starts in the town of Marathon with the finish being in the old Olympic Stadium in Athens used for the first modern Olympics back in 1896.