CALLUM Rea has been named Bristol & West AC's clubman of the year for his consistent performances in the British Athletics Men's League campaign.
Men's captain Alex Daley explained that Rea had turned out for all four Division Three matches contributing vital points in the campaign that led to the club being crowned champions and securing a quick return to Division Two.
"Callum was present at every match, competing in 100m, 200m, javelin, shot, high jump, 4x100m and 4x400m," said Daley.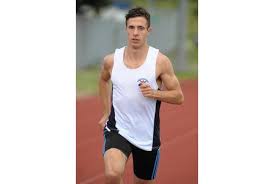 "Callum joined Bristol & West as a higher claim this year and has proved an incredible asset to the team. We will sign Callum as a first claim member this winter and look forward to many a season with him."
Further awards were made to Dajon Wright and Mike Wilsmore (pictured left).
Newcomer Wright was honoured for the best performances of the league season as he took almost four tenths of a second off his 110m hurdles PB to win his debut race back in June.
"His first sub 16secs clocking aided to a huge team win that day," added Daley.
Wilsmore was named National Athlete of the year after finishing fourth in the 1500m at the British Championships.
"He completed the tough 1500m and 3000m double for us in the crucial match three to help secure our second win of the season," said Daley.