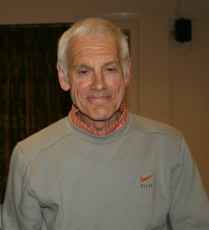 BRISTOL & West AC team manager Mike Down believes the club has never fielded a stronger squad for the National Road Relay Championships since the club was re-branded 15 years ago.
The 12-man team heads to Sutton Park, Birmingham, for tomorrow's event knowing they are strong enough to challenge for a place on the podium for only the third time ever in the club's history – including its former incarnational as just Bristol AC.
"It would be hard to disagree that we have never turned out a stronger 12 man team," said Down (pictured left), who is normally very conservative in his predictions.
"So our aim must be a medal in the English championship, if not the UK, which would cap a remarkable season."
Down's confidence is based upon the team's recent success in retaining the Midland Counties title for a third successive year and the strengthening of that squad with the return of British international Dan Studley (pictured right) and Pete Le Grice for the long stages and Mike Wilsmore (pictured below left) for the short stage.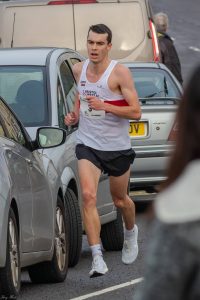 "It's the highlight of the winter season and universally regarded as the blue riband of inter club competition, our FA Cup final if you like," added Down.
"The club has only won the title once back in 1980, a race that will never be forgotten as our team set a record time that was never beaten before the recent changes to the course four years ago.
"The quest for a repeat of that triumph nearly 40 years ago has been one of our key ambitions since the club was rebranded as Bristol and West back in 2003.
"It has been a long and frustrating haul, but progress in the meantime has been relentless, rarely finishing outside the top ten, with a podium position finally cracked three years ago when we took the bronze medals before going on to take the English title the following year, albeit finishing second overall behind Welsh champions Swansea."
Can Down's men finally realise that long-held ambition tomorrow?
Leeds will start favourites having taken everything before them this winter by winning all three
National titles – 6-stage, cross relay and cross championships – and their current star-studded team must be more than capable of breaking Swansea's record after they won the Northern title last week by an astonishing five-and-a-half minutes.
Welsh clubs Swansea and Cardiff can't be discounted while Southern championships Aldershot, Farnham & District can boast GB internationals Andy Vernon and Richard Allen in their squad.
"The net result suggests that we could clock our fastest time ever and still have to be happy with a place in the top  six, not that that is any disgrace at national level," said Down.
"Yet I know our guys have higher hopes than that."
Bristol & West AC A team (in provisional running order with each long stage being followed
by a short):
A: Will Christofi; Kurt Taylor; Harry Allen; Callum Jones; Jarlath Mckenna; Rich Peters; Dan Studley; Josh Moody; Pete Le Grice; Owain Jones; Jack Millar; Mike Wilsmore. Res Jack Bancroft; Andy Watt.
B: Jed Bartlett; Alberto Beltran; Jack Bancroft; Billy Cochrane; Andy Drake; Miles Chandler; Andy Watt; Adam Wilson; Pete Bains; Otis Mondir; Graham Breen; Nick Roberts.                  ,