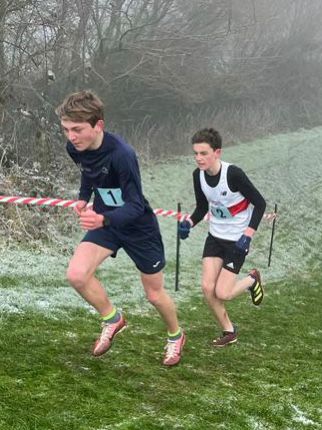 I over-estimated the number of golds won by the Westbury Harriers' girls at the 2023 Avon Schools' Cross Country Championships at the weekend.
Initially I said they had won three of the four golds but it seems that both Estelle Lowe (and her sister Felicity) now represents North Somerset AC.
So Lowe's success in the junior girls' race, with new clubmate Heidi Martineau runner-up, takes the North Somerset's gold tally to two with Reuben Wadey winning the inter boys' race.
Bristol & West AC's tally remains at two thanks to Ewan Sparey (pictured right chasing eventually runner-up Stanley Wyatt of Bath) and Freddie Barnes with Team Bath's Dylan Stoneman the senior boys' winner.
But there remains something of a mystery about senior girls' winner Zoey Starke of BGS as she doesn't appear to represent an athletics club and her rivals didn't seem to know much about here. Except that she is a fine runner!