WESTBURY Harriers' girls won three titles at the Tri-Counties Cross Country Championships.
Ellie Wallace and Hannah Hobbs (both pictured left in the start of the race on Sunday) were the class acts in the combined under 20/17 women's race as they finished a clear one-two 40 seconds clear of the field.
Both were winners as well with Ellie picking up the under 20s title and Hannah the under 17s  with just ten seconds separating the pair at the finish line.
Victory completed a good week for Ellie as she was also a winner in the Gwent League staged by her club at Blaise Castle the previous Saturday
The other Westbury winner was Dalis Jones in the under 13 girls' race. There were also bronze medals for Ellie Hobbs in the under 15 girl' race and Amelia Honor in the under 13s.
In the boys' races Westbury's only medal came from George Peacock, who was runner-up in the under 11s age group.
Bristol & West's Hugh Sadler (pictured right leading the under 20/17 men's race in its early stages) was a class apart as he won the combined under 20/17 men's race even though he is still in the younger age group.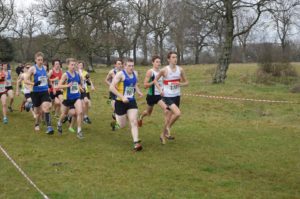 North Somerset AC's star performer was Sam Gentry as he struck gold in the under 15 boys' age group ahead of team-mate Matthew Howard with Jack Wilkinson completing a superb club clean sweep.
There was also a silver medal for David Warnes in the under 20s race.
Tri-Counties Cross Country Championships, Bath University – Under 20 women: 1 Ellie Wallace (WH) 17:08; 2 Alys Withers (NSAC) 20:41 3 Holly Newman (AVR) 23:25.
Under 17 women: 1 Hannah Hobbs (WH) 17:18; 2 Jade Littlechild (TB) 17:58; 3 Alice Davies (B&W) 18:05.
Under 15 girls: 1 Enya Maylor (TB) 14:31; 2 Abbie White (Wells) 14:45; 3 Ellie Hobbs (WH 14:53.
Under 13 girls: 1 Dalis Jones (WH) 10:23; 2 Olivia Roderick (IIF Salisbury) 10:54; 3 Amelia Honor (WH) 11:05.
Under 11 girls: 1 Harriet Hillman (Swin) 7:19; 2 Laura Chance (WH) 7:38; 3 Skye Fisher (Wells) 7:43.
Under 20 men: 1Ben Jones (Taun) 18:52; 2 David Warnes (NSAC) 19:10; 3 Stephen Thomas (unatt) 19:17.
Under 17 men: 1 Hugh Sadler (B&W) 18:39; 2 Frederick Webb (TB) 19:12; 3 Max Davis (AVR) 19:13
Under 15 boys: 1 Sam Gentry (NSAC) 12:28; 2 Matthew Howard (NSAC) 12:29; 3 Jack Wilkinson (NSAC) 13:09.
Under 13 boys: 1 Tom Heal (Taun) 9:50; 2 Robert Jones (New Forest) 9:57; 3 Fred Fisher (Wells) 10:06.
Under 11 boys: 1 Joe Andrews (unatt) 7:011; 2 George Peacock (WH) 7:07; 3 Finlay Downes (Wells) 7:14