WESTBURY Harriers have several young athletes who could feature prominently in the English Cross Country Championships in Nottingham tomorrow.
The likes of Ellie Wallace, Hannah Hobbs (pictured left), Dalis Jones and Abdi Hasan are all capable of pushing for a top ten finish in the biggest event of the winter.
Ellie has had a mixed start to 2017. She won her first British Cross Challenge event in Antrim and cruised to victory in the Avon Schools' Championships but then illness prevented her from contesting the South West Schools'.
At her best Ellie is a genuine contender for a top ten finish in the under 20 women's race.
Hannah has had a great winter and since the turn of the year has made the podium in the South West Inter Counties Championships – with an emphatic victory  – the British Cross Challenge in Cardiff  (2nd), the Midlands (2nd) and the South West Schools (3rd), when she was a little below par.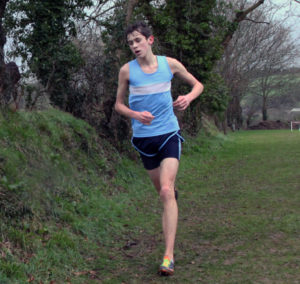 She has had a refreshing break since then so is raring to go in the under 17 women's race.
Dalis wrapped up the Gloucestershire league under 13s title last weekend with her fourth successive victory and while the National is a huge step up in class her silver medal at the Midlands last month roved she can mix it with the best.
Likewise Abdi is a talented runner as he proved with sixth place in the Midlands and sixth in the South West Inter Counties but he struggled in the mud at the South West Schools' finishing 30th so maybe the conditions will be crucial to determine how he fares this weekend.
Another hotly fancied local young athlete at Nottingham will be Bristol & West's Hugh Sadler (pictured right), who looked superb in winning the South West Schools' and will be one to watch.