THE internationally renowned Grizzly, which since its inception has entertained thousands of runners and raised more than £300,000 for charity, has been voted the third best run in the country, by Runners World, with the London Marathon in the top spot.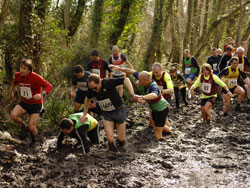 The 29th running of the Grizzly and Cub runs start together on Seaton Esplanade is on Sunday 13th March (10.30am) and  this year is subtitled 'Grin and Bear It' .
The race remains as popular as ever with about 2,100 entrants in the Grizzly and 300 in the Cub, plus there will be two Junior Grizzly runs on Saturday afternoon with the longer 4k and the shorter fun 2k.
"The race is a massive community effort, with about 650 marshals and helpers required on the day," said Phil Bayliss of the organising club Axe Valley Runners.
"Axe Valley Runners are indebted to all these people, plus the sponsors, local organisations, landowners and residents of East Devon, for without their support the Grizzly would not be the prestigious sporting event it has now become."