IN response to the continuing high demand the limit for the 2017 Ivybridge 10K on Saturday May 6th has been increased to 800.
But even that might not be enough to satisfy everyone who wants to run a race that has become one of the most popular in Devon.
"We were full with three weeks to go last year," warned race director Ian Crossley.
This spectacularly scenic race starts in Ivybridge Station Car park and finishes at Ivybridge Rugby Club. The course is relatively fast, despite the steep hill from Bittaford to Moorhaven. The last 6km of the route are almost all downhill, making for a fast second half of the race.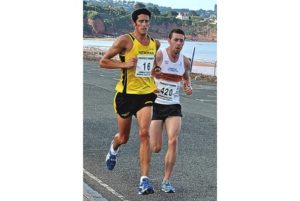 There is an extensive prize list including a £100 cash prize if the course records of Kairn Stone (31:08 in 2010 and pictured racing alongside Bristol & West's own Tom Merson) and Jo Meek (36:39 in 2010) are broken.
The entry fee, which includes a t-shirt to all finishers, has been held for the fourth year at £11 for club runners and 313 unattached.
For further details see the race website at: www.ermevalleyharriers.co.uk