Perfect podium: Adam Wilson with Bristol & West clubmates Kurt Taylor and Johnny Suttle
KURT Taylor led a Bristol & West AC clean sweep at the Sutton Benger 5 miles road race in Wiltshire yesterday.
Taylor raced clear of his team-mates for victory in a swift time of 25mins 03secs with Johnny Suttle over a minute behind in second (26:07) and Adam Wilson third (26:24).
But Taylor just missed out on the course record of 24mins 55secs, which was set by clubmate Jack Bancroft last year.
Jamie Hinton continued the B&W dominance in fourth (26:31) and only Rich Ayling of Avon Valley Runners in fifth denied the club the top five as he finished clear of Andrew Drake in sixth (27:03).
There was also local success in the women's race with Liz Sanigar of Bitton Road Runners picking up the women's prize in 23rd overall (31:58).
The Bitton women actually enjoyed the same dominance as the B&W men with Rachel Stowell runner-up (32:19) and Fiona Blackmore third (32:51).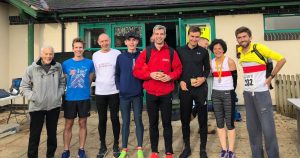 Elizabeth Smith of Westbury Harriers finished fourth (33:12) and Mary Derrick of Hogweed Trotters won the veterans' over 55s prize (36:56).
Last but not least B&W's Mike Chipping finished top veteran over 60.
Bristol & West's squad at the Sutton Benger 5 yesterday.