TAMSIN Elson Chick has paid tribute to the Westbury Harriers women who turned up for the third Gwent Cross Country League.
"So proud of the ladies team today!" said the club's team manager.
"We had a fantastic turnout with 24 ladies taking part, so thank-you. We saw a storming performance from Floren to win the ladies race.
"I can't think when a WH lady last won! Our U23 team was out in force with Ellie Wallace (pictured below right) competing in her first senior race and Ellie Leather and Emma Journeaux (pictured above left) both running well.
"It was a high class field and with good conditions a fast race. The ladies all ran their socks off and will be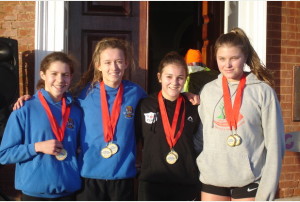 exciting to see the team results. A huge thank you and well done all.
"Also a big thanks to all the WH organisers and marshals who give up their time to make it such a great event."
1st Floren Villanueva Scrafton, 7th, Ellie Wallace, 17th Ellie Leather, 18th Emma Journeaux, 35th Sophie Voller, 44th Lucy Richens, 49th Kirstie Hamilton-James, 53rd Jayne Pemble, 70th Rhona Beynon, 76th Emma Woodworth, 80th Kelly Winstone, 109th Emma Bradbrook, 116th Jeni Stevenson, 117th Caroline Bull, 122nd Evita Gonzalez, 127th Alison Osborne, 151st Shirley Hume, 153rd Sandra Sforza, 161st Philippa Beale, 186th Victoria Sloan, 197th Svetlana Jones, 206th Marilyn Palmer, 232nd Eithne Noonan, 242nd Linda Phillips And Tony Jeffries 168th.