THAT Tom Merson is nothing but consistent. Merson returned to Wales for his second 10k in a week and seven days after clocking 31mins 01secs in Cardiff completed the Swansea Bay event in 31min 00secs.
Tenth in Cardiff Merson (pictured below right) improved to seventh in Swansea but in all honesty he is still performing below the peak standard he set towards the end of 2015 and in New Year when he ran a personal best of 29:50 in Telford and then 30:09 in Exeter.
Nonetheless, Merson is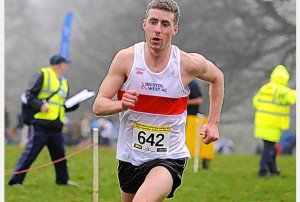 still performing at an incredibly high level and if 31 minutes is below par then he will be the envy of most runners in the West Country.
Former North Somerset AC runner Josh Dixon, who now competes for Stroud after work commitments took him to Gloucester, was 16th and Bristol & West AC's Jack Millar smashed his PB by 32 seconds with 32:53 in 24th.
Cardiff 10k winner Rachel Felton from Stroud was third in the women's race.
Swansea Bay 10k road – men:  7 Tom Merson (B&W) 31:00; 16 Josh Dixon Stroud/Wales) 32:10; 17 Oli Mott Chelt) 32:14; 24 Jack Millar (B&W) 32:53.
Women: 1 Katrina Wootton (Cov) 32:54; 2 Winfridah Mosetti (Kenya) 32:59; 3 Rachel Felton (Stroud, W35 1st) 34:11; 4 Ruth Barnes (AVR, W35 2nd) 34:34.