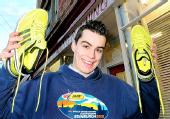 DAN Studley has been enjoying a mini European tour this week.
Last night the 23year-old Bristol & West AC runner was in Sweden for the Folksam Grand Prix meeting in Karlstad and he clocked a personal best of 8mins 17.72secs for 12th in the 3000m.
On Saturday he finished eighth in the C 5000m at the KBC Nacht meeting in Belgium in a time of 14mins 00.94secs, just 0.65secs off his personal best also set in Belgium in May.
It would have been frustrating for Dan not to have dipped under 14 minutes on the track last weekend while on the basis of his 1500m PB of 3:43.64 I would suggest Dan is worth more than 8:17 at 3000m. Indeed, I can see Dan getting under 8:10 in the near future.
Still it is good to see him getting experience on the European circuit and trying different races against new opponents.