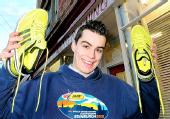 DAN Studley claimed the best win of his career at the Leeds Abbey Dash 10k road race yesterday.
The event incorporated the England Athletics Championships so once again attracted a top class domestic field, who were relieved that the incessant rain and high winds dropped off just before the start.
Studley (pictured) ran a canny race sitting in behind Welshman Dewi Griffiths and Jacob Allen before using his track speed to sprint clear at the end.
The unofficial winning time – and on the day there was a problem with the results – was 29mins 43secs which would be a personal best shaving three seconds off his 2013 best.
"A small PB in difficult conditions but nice to be National 10k champion!" said Studley.