James Thie (607) and Westbury's Ben Rawlins (308) to the fore at the start of the Clevedon 4. Photo courtesy of Mike Mewse.
DAN Studley returned to his believed West County for a popular victory in the Clevedon Boxing Day 4 miles road race yesterday.
The Bristol & West AC British international runner, who is based in Loughborough, faced 2016 champion Jeap-pierre Weerts but Studley proved too strong for the Belgian international who was in Clevedon for Christmas with his girlfriend Steph Barnes.
"It's good to be back racing in the West Country and I've been told the fastest time for 12 years," said Studley.
"It's still a working progress."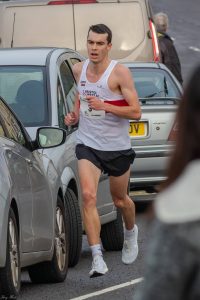 Studley crossed the finish line in a time of 18mins 50secs, over half a minute clear of Weerts who himself enjoyed a 40-seconds gap to Clevedon AC's Alex Crossland.
Champion: Dan Studley in full flow. Courtesy of Rory Hailes Photography.
That represented a terrific run by Crossland and rates as one of the best – if not the very best – performance by a Clevedon AC runner in the event that the club has organised for many years.
Crossland did well to hold off the B&W pair of Jack Millar and Maciej Bialogonski while in sixth and top veteran was the Clevedon-born ex-international and now top Cardiff-based coach James Thie, who continues to lead by example – and is still fast enough to humble many of the younger athletes he coaches.
James Rodgers was North Somerset AC's leading runner in seventh with Westbury's top representative being Joe Connors in ninth place.
Top woman and receiving a rousing roar as she finished was Barnes as she clocked a time of 21:38 in 17th overall of the 1,098 finishers, which was another great success for the club.
Job well done: Westbury Harriers' runners after a good Boxing Day work-out. Photo courtesy of Mike Mewse
Barnes enjoyed 28-seconds gap to Laura Gent of Aldershot Farnham & District with Rose Penfold of Fulham Running Club third in 23:06. In sixth was North Somerset's Katie Grinyer.
Elsewhere it was good to see Bristol & West's Phil Parry back racing well again and finishing second veteran over 50 behind Jon James of Wells City Harriers.
Also interesting to note that defending champion Luke Grenfell-Shaw could only finish 32nd this year – in a time over three minutes slower than in 2017.