ONLY one runner from the West Country has been included among an elite group of athletes chosen to share £350,000 of funding from London Marathon Events Ltd in 2019.
Stroud & District AC junior Tom Mortimer (pictured left) has made the select list which also includes the likes of Steph Twell, Lily Partridge, Chris Thompson and Chris O'Hare.
A total of £180,000 will be provided to British Athletics towards funding the World Class Programme (WCP) and high altitude training camps for British endurance athletes.
 A further £70,000 will be offered to 32 nominated individual athletes not currently supported by the WCP – including Mortimer – while £100,000 will support the work of the Endurance Performance and Coaching Centre at St Mary's University in Twickenham.
It is the first time London Marathon Events has worked with British Athletics to select the nominated individual athletes and the funding is designed to provide a bridge for endurance runners to the WCP and to improve the standard of British endurance running across all distances.
The athletes were shortlisted by a panel of British Athletics and London Marathon Events endurance experts, with the final decision made by British Athletics. No athlete currently funded through the British Athletics WCP is eligible to receive London Marathon Events individual funding.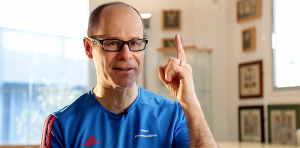 Hugh Brasher (pictured right), event director of London Marathon Events, said: "One of Chris Brasher and John Disley's founding principles when they created the London Marathon back in 1981 was to improve the standard of British endurance running – and this commitment remains as strong today.
"We want to see British endurance athletes challenging the very best runners in the world in the very best races in the world – including the Virgin Money London Marathon – and the support we gave Mo Farah through his university days and beyond has shown how our funding programmes can help athletes get closer to this goal.
"We are proud to do our part to support British endurance athletes and look forward to a future British winner of the world's most popular marathon."
Athletes offered a place on the 2019 London Marathon Events/British Athletics funding programme
Mohamud Aadan: Marathon
Charlotte Arter: 10,000m
Tracy Barlow: Marathon
Alex Bell: 800m
Philippa Bowden: 10,000m
Hayley Carruthers: Marathon
Kieran Clements: 10,000m
Natasha Cockram: Marathon
Jamaine Coleman: 3000m steeplechase
Ben Connor: 10,000m
Ellis Cross: 10,000m
Jonny Davies: 5000m
Tom Farrell: 5000m
Emelia Gorecka: 5000m
Neil Gourley: 1500m
Jess Judd: 1500m
Jonny Mellor: Marathon
Ross Millington: 10,000m
Tom Mortimer: 5000m
Amy-Eloise Neale: 5000m
Chris O'Hare: 1500m
Lily Partridge: Marathon
Aimee Pratt: 3000m steeplechase
Charlotte Purdue: Marathon
Marc Scott: 10,000m
Zak Seddon: 3000m steeplechase
Charlotte Taylor: 10,000m
Chris Thompson: Marathon
Steph Twell: Marathon
Andy Vernon: Marathon
Katrina Wootton: 10,000m
Alice Wright: 10,000m