BRISTOL & West AC junior international sprinter Chris Stone opens his indoor season at the South of England Indoor Championships at Lee Valley tomorrow.
It will be Stone's first competition since switching to Bath-based coach Dan Cossins (pictured below right), whose star athlete in a high quality group is top UK 200m sprinter Danny Talbot.
"It was definitely the right move for me and training is going really well," said Stone, pictured left receiving his training shoes as a former winner of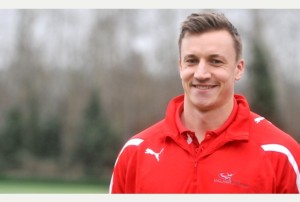 the Easy Runner/Bristol Post athlete of the month competition.
Stone will give the 200m a miss this weekend and focus solely on the 60m as he potentially faces four rounds against a strong line-up of sprinters.