RUTH Barnes clocked a personal best to finish first woman in the latest Aztec West Fast 5k race.
The Trowbridge-based member of Avon Valley Runners (pictured left) shaved three seconds off her previous best, set over the same course in June, to win in 16mins 41secs.
That will give her a good boost ahead of the Bromham Christmas Pud 10k on Sunday, an event that now sells out in hours and boasts a flat, fast course in the Wiltshire countryside near Devizes.
A distant second was a slightly disappointed Charlotte Green-Taylor (pictured below), who admitted afterwards that her legs felt a little jaded after winning the Weston Prom 5 the previous Thursday.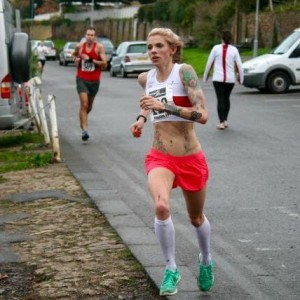 Cardiff's Matthew Clowes was a class apart in the men's race as he was the only runner to break 15 minutes with a swift 14:41.
That left Clowes 24 seconds clear of former Bristol & West runner Oli Mott, now with Cheltenham, with his clubmate Phil Beastall third.
B&W's Jarlath McKenna was fifth with North Somerset AC's James Rodgers 10th. Coach Dave Bedwell won the over 60s prize.
Aztec West Fast 5k – men: 1 Matthew Clowes (Cardiff) 14:41; 2 Oli Mott (Chelt) 15:06; 3 Phil Beastall (Chelt) 15:08.
M40: Anthony Bailey (Chelt) 15:52. M60: Dave Bedwell (B&W) 18:34. U17: 1 Oscar Rogers (Taun) 16;25; 2 Otto Coping (TBAC) 16:44
LOCAL: 3 Alex Matchett (Bristol Uni) 15:13; 5 Jarlath McKenna (B&W) 15:15; 10 James Rodgers (NSAC) 15:46; 11 Joshua Moody (B&W) 15:46; 17 Josh Davis (NSAC) 16:05; 18 Will Davidson (B&W) 16:07; 19 Cameron Perkins (TBAC, U20) 16:09; 20 Maclej Bialogonski (B&W) 16:10.
Women: 1 Ruth Barnes (AVR, W35) 16:41; 2 Charlotte Taylor-Green (B&W) 17:27; 3 Natalie Griffiths (Rotherham) 18:24.
202 finishers.